You choose a wired or wireless network or a combination of both. With ESM you not only manage your autonomous and central luminaires for emergency lighting, but also emergency units and LED modules built into your luminaires.
You can connect your ESM network to the Internet, in order to always have full access wherever you are.
ESM offers only advantages and adds value to your emergency lighting
You opt for extra safety
You save time and money by managing your emergency lighting efficiently, always, everywhere. (In accordance with European standard EN50172).
You can keep all your options open: a versatile solution for any building or system configuration.
ESM is a user-friendly system.
ESM grows flexibly along with your needs.
You are in good company: ESM has proved its quality and stability for years in hundreds of companies throughout Europe.
System structure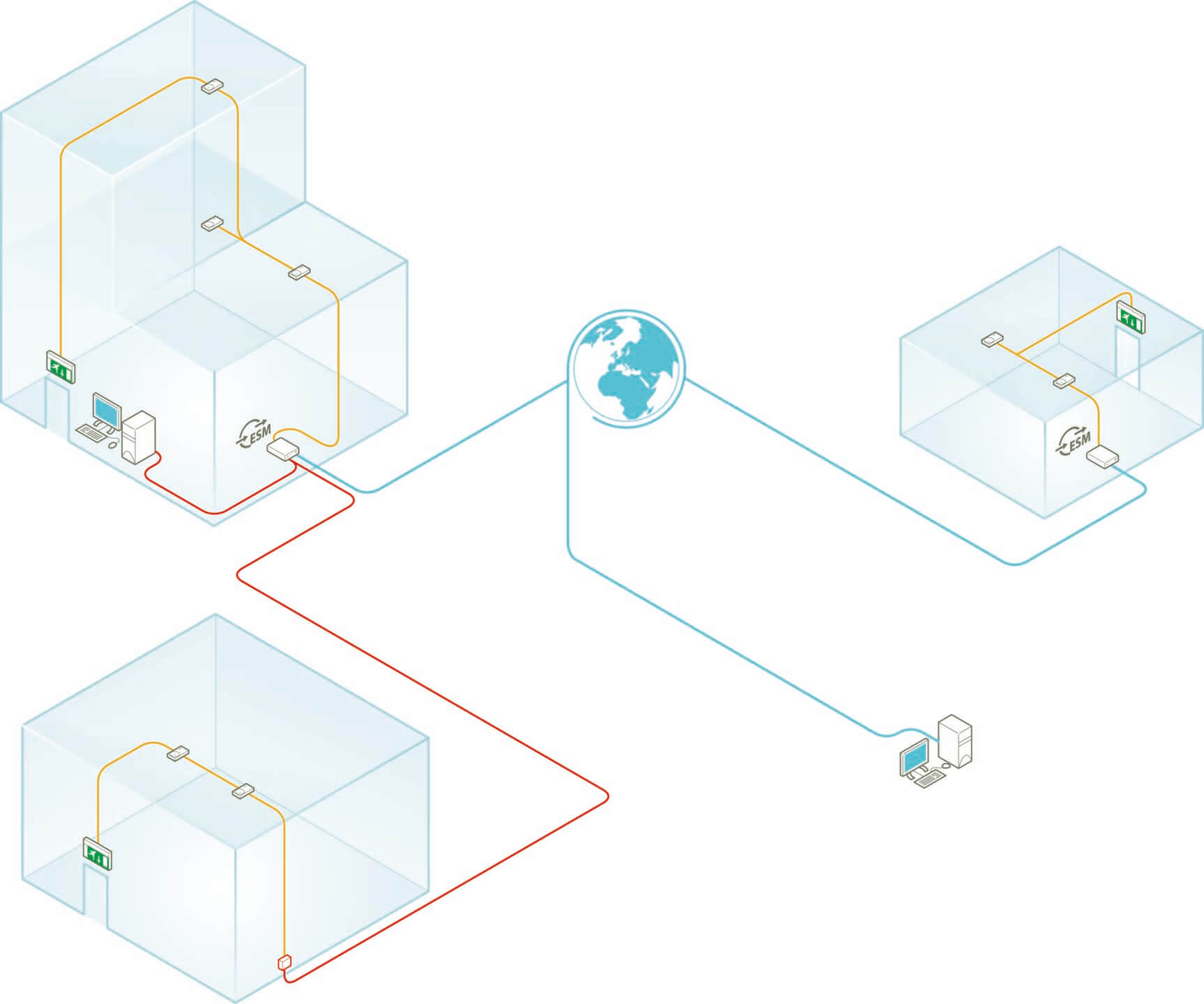 ESM system functions
Luminaire - messages
Luminaire errors: lamp, battery, electronics
Network issues: communication or radio communication issue
Luminaire: identification data
Software - commands (individual/per group)
Switching of the permanent lamp (manual/periodically automatic)
Setting testing times
Manual testing
Search function
Activating or deactivating rest mode (for wired only)
Software - overview
System status:

operating mode (standby/test/rest/emergency)
lamp status, test settings (time/cycle)
lamp burning hours (self-contained luminaires only)
battery autonomy (except luminaires with emergency unit and EBS systems)

Error messages: lamp, battery, electronics, network communication disruption
Maintenance: to-do list with location on map or photo and information on luminaire, lamp and battery
Statistics: status report, history
System reports: installation report, test settings, status report, repair orders
(in accordance with EN 50172)
System - External connections
Automatic export of status information (ASCII)
Alarm signalling via potential-free contact module
Automatic error reporting via e-mail
Access by PC via Internet or network connection