ETAP has designed the U3 with your comfort in mind. The innovative Shielded Lens technology screens off the LED light and prevents glare (UGR ≤19 or  ≤ 16). The lens packs are recessed into shielding units, so that the light source is barely visible at eye level, resulting in very little contrast between the luminaire's luminance and that of the ceiling. These properties make the U3 suitable for diverse applications such as offices, classrooms, reception areas, public spaces, etc.
Always the right choice
Thanks to our extensive range you can always make the right choice, depending on the requested lumen output, the size of the space and your own taste. The U3 comes in square and rectangular versions, with two light distributions and several lumen packages. The shielding units are available in a white or aluminium version.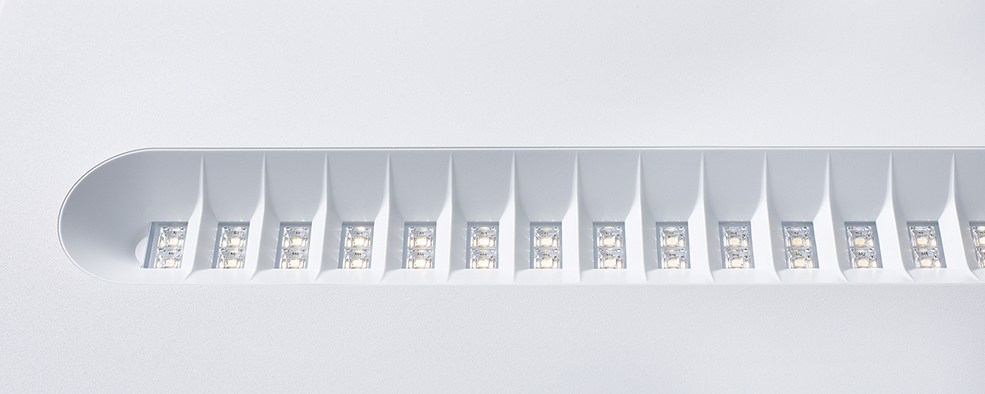 An investment for the long term
As you have come to expect from ETAP, the U3 is a particularly energy-effi cient luminaire. However, this is not the only reason why this is an investment for the long term.
High efficiency: depending on the version, the luminous efficacy can reach 158 lm/W.
Two light distributions: The very wide-angle light distribution is ideal for large spaces, such as open-plan offices. Luminaires with medium-angle light distribution are more suitable for smaller spaces such as classrooms or individual offices.
Luminoux flux: The number of lens packs in a U3 luminaire ranges from 2 to 7. The more lens packs, the greater the luminous flux. The U3 is available in luminous flux from 2000 to 7000 lumen. By combining the right luminous flux with the right lens, it is possible to precisely determine the number of luminaires needed for your project.
Long service life:  ETAP pays a lot of attention to the service life of its lighting solutions. LEDs are supposed to have a long service life but there are major differences depending on quality. The quality of the driver and the luminaire design impact the LEDs' maintenance factor (LLMF) as well. After 50,000 burning hours, the LLMF of the U3 is still 98%.
Additional savings: The U3 can be combined with sensors and/or modules for light control and emergency lighting. Luminaires with air extraction are also possible,  preventing you from having to install additional connections in the ceiling.
Appearances also count
Its innovative outline and high-standard finish also make the U3 a stylish luminaire, with an attractive design. But judge for yourself: a picture is worth a thousand words.