Filter your selection
UGR
Unified Glare Rating - this is an approximate model expressing the risk of glare.
The standard values range from UGR 16 (low risk of glare) to UGR 28.
In the standard for workplace lighting EN12464-1, limit values for UGR are imposed for various rooms.
Lamp colour
3000 K = Warm white
4000 K = Natural white
Ceiling modulation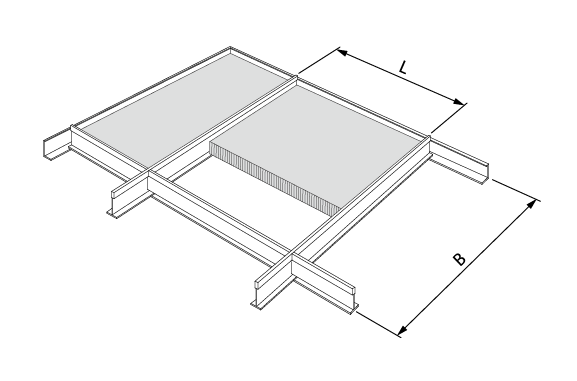 ETAP's recessed luminaires are suited for lay-in mounting in ceiling systems with T-profiles.
Other ceiling systems are possible too! Contact ETAP for a customized solution for your ceiling system.
| Modulation | B x L |
| --- | --- |
| M600 | 600 x 600 |
| M300 | 300 x 1200 |
| M625 square | 625 x 625 |
| M625 linear | 312 x 1250 |
| Bandraster | 300 x various sizes |
U3
ETAP's U3 range offers you a combination of supreme light comfort and an outstanding light distribution. The Shielded Lens technology shields the LED light thereby minimizing glare. The lightsource is integrated in to shielding units to hide the LED light from sight in the critical angle of view.
U3 is available in three sub-ranges:
The OFC range (Optimized For Comfort) consists of luminaires with a medium-wide angle light distribution to achieve the highest visual comfort.
The OFR range (Optimized For Renovation), maximizes the luminous flux per unit with a medium beam light distribution and is optimized for fixed interdistances of 2,4 m.
The OFI range (Optimized For Interdistances) with an extreme wide angle light distribution was designed to maximize interdistances whilst achieving lighting design requirements.